Can Churches Use Venmo for Giving?
At Simplify Church, we provide financial expertise and support to make managing church finances simple. We've helped hundreds of small and growing churches optimize their church finances. One question we hear often is, "Can my church use Venmo (or a similar online payment app) to accept donations? 
If you aren't familiar with the app, Venmo is a popular mobile payment service in the United States that allows users to send and receive money from their friends and family members. Venmo allows users to link their bank accounts or debit cards to the app and then use it to make payments or request money from their contacts. Venmo is free to use for personal transactions, but there are fees for using it for business transactions or transferring funds to a debit card. 
Not all that long ago, we were having conversations with churches about the importance of offering online giving. Established churches were hesitant to make the leap and had concerns about transferring money electronically.  
Over the last few years, there has been a dramatic shift in the conversation about online giving for churches. More and more churches have seen the value and the need to make giving simple and easy for people to do. Solutions that provide online giving, text-to-give, and allow for reoccurring donations, all make giving to churches much easier to do (and can be done from the comfort of home). 
However, as with many cultural shifts, the pendulum often swings too far to the other side. If one online giving option is good, shouldn't we offer lots of online giving options? While online giving helps both churches and their donors, there are some concerns to be aware of when using common payment apps, such as Venmo, to collect donations.  
The Problem with Using Venmo for Your Church
While Venmo can be a convenient way to collect money for your church, there are some potential issues to consider. 
Congress recently passed new regulations that require payment apps to issue a 1099-K for any user who has given an amount over $600 to your ministry.  While a donation to your ministry is more than likely non-taxable, since these apps offer a generic money transfer, there really isn't a way to distinguish between a donation and sale through the system. 
While trying to offer numerous giving options to your ministry, this may create a hassle for your donors who may receive an automatically generated 1099-K from the provider. Additionally, this will cause more hassle and workload for your ministry, as those donations will definitely trigger a form to be produced for your organization. This will then require that you provide proof that the money given was in fact received as a donation, and no goods or services were provided in exchange. 
If you do choose to receive donations through Venmo, or another generic online payment app, you may want to consult with a tax professional to ensure that your church is compliant with any relevant tax laws. Overall, Venmo can be a useful tool for collecting donations for your church, but it's important to carefully consider the potential issues and risks before deciding to use it.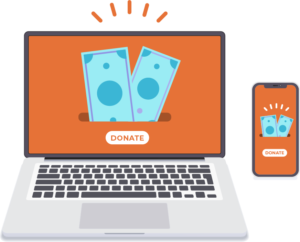 Venmo is Not Designed for Churches
Churches, which are tax-exempt non-profit organizations in the United States, should exercise caution when using Venmo to collect donations. Here are some reasons why: 
Venmo's terms of service prohibit commercial use:

Venmo's terms of service prohibit the use of the app for commercial purposes. While it's possible to use Venmo to collect donations for a non-profit organization, there is a risk that Venmo may consider this to be a violation of their terms of service.

 



Lack of donor information:

Venmo does not provide organizations with detailed information about their donors, which can make it difficult to issue receipts or acknowledge donations for tax purposes.



Difficulty tracking donations:

Venmo does not provide robust reporting or tracking tools, which can make it difficult for organizations to track their donations and ensure that they are properly accounted for.

 


 

Compliance with IRS regulations:

Non-profit organizations are subject to strict regulations regarding the collection and reporting of donations. Venmo's lack of reporting tools and detailed donor information could make it difficult for organizations to comply with these regulations.

 
At the end of the day, while Venmo can be a convenient way to collect donations, it is not an app designed for churches. It's important that churches carefully consider the potential risks and limitations of the app before deciding to use it. In our opinion, there are other, more appropriate tools and platforms available that are much better suited to the needs of churches. 
Venmo Alternatives for Church Tithes and Donations
Using a giving app specifically designed for processing donations to churches is a much better option for churches (and their donors). We recommend SimplifyGive, our online giving solution created with small and growing churches in mind. 
SimplifyGive is designed to make online giving simple for churches and donors. It includes text-to-give, reoccurring donations, and the ability to give online or through a mobile responsive, personalized giving page. The app is focused on keeping costs down, so that the maximum amount from each gift goes to the church for ministry. All gifts received through SimplifyGive.com are automatically identified as gifts, so they will not be subject to any taxable records to your ministry. At the same time, it offers easy-to-access, valuable church giving metrics, so that you can better lead and grow your church.   
How to Choose The Right Giving Platform For Your Church
Choosing the right giving platform is an important decision for your church. While we believe in the value, the convenience, and the simplicity of SimplifyGive, here are a few things to look for as you seek to find the right giving platform for your church: 
Payment Options

 


Consider what payment options are available on the platform. Does it accept credit and debit cards, bank transfers, and other payment methods that your donors are likely to use?

 

 

Pricing Structure

  
It's important to understand the fee structure of any giving platform you are considering. Look for platforms that offer reasonable fees and simple, transparent pricing.



Plug-and-Play Website Integration

 
Does it easily integrate giving forms into your church's website in a few simple steps?



Customizable Giving Pages

 
Do the giving forms feature your custom logo and colors, so your donors know exactly who they are giving to?



Multiple Fund Designations

 
Is the system set up to support fund accounting? If you use fund accounting, our system makes it easy for your donors to specify where they'd like to give.



Integrated Donor Data

 
Look for platforms that provide detailed donor data, including names, contact information, and donation history. This can be important for issuing receipts, acknowledging donations, and producing donor statements simply and easily. 



Security

 


Make sure the platform you choose has robust security measures in place to protect your donors' personal and financial information.

SimplifyGive is PCI Level 1 compliant and provides top-notch security, giving both you and your donors peace of mind.



Reporting and Tracking

 


Consider what kind of reporting and tracking tools are available on the platform. Can you easily track donations and generate reports?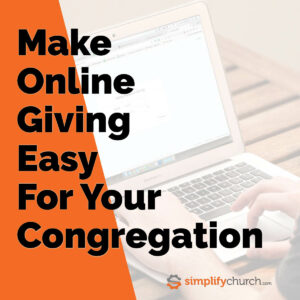 Should your church use Venmo, Paypal, Cash App or another online payment method?
Tax issues aside, there is nothing to prevent your church from using Venmo, Paypal, Cash App or another online payment method to collect tithes and donations for your church. However, using Venmo or another money transfer app is not the best option for your church. While using these apps may seem to be convenient and offering those options may be tempting to increase giving, the added hassles will probably make them not worth the effort. 
You owe it to your donors, your accounting staff and your ministry to be the best steward of the resources available to your church. Choose an affordable online giving platform designed for small and growing churches, like SimplifyGive. Using our quick, no-fee sign up process and simple plug-and-play website integration, we can have your church accepting donations in a matter of minutes!